Today was a good day for my boys. Today the school held a day for father's!
Such a lovely thought, now I know there are a lot of children who's fathers wouldn't/couldn't attend, but the school opens it up to any male relative/family friend. They had stuff like wall climbing, mountain biking, orienteering. For the smaller children they had all sorts of arts and crafts and fun games.
I'll give you a little background, in case you're fairly new here. My 2 youngest boys attend the same school, one in the infant dept. the other in the junior debt.
RJ Climbing a wall!
My 10 year old can't get enough of school. He loves the routine of it, I think! This past week, however, he has been a nightmare of emotions. Everything he says is too loud. If you suggest he try something he will take it as a telling off, get anxious and burst into tears. We cannot say anything to him! Walking on egg shells is an understatement........I'm exhausted!
His class activity was the wall climbing, so with great trepidation Mr. Ojo went up to join in. He came down an hour later with positive news. RJ had apparently got worked up the 1st time he had gone up the wall, but the instructor had kept him going, talking him up. He calmed down and did it! Then, he did it again....Mr. Ojo enjoyed the experience and so did RJ.
Then we came to the afternoon, my little one. He refuses school EVERY morning.......until this week! I have not had one single problem getting him there this week, it may be because we promise him a little toy at the end of each successful week. Or maybe it is because I have refused to give in, he likes it when he is there anyway!?
When they have done activities for mothers day, little A doesn't enjoy it. I think it's because they do an afternoon tea and there are too many people in the classroom. Because of his usual reaction we didn't know if today would go well. He would see his dad walk in and ask to leave.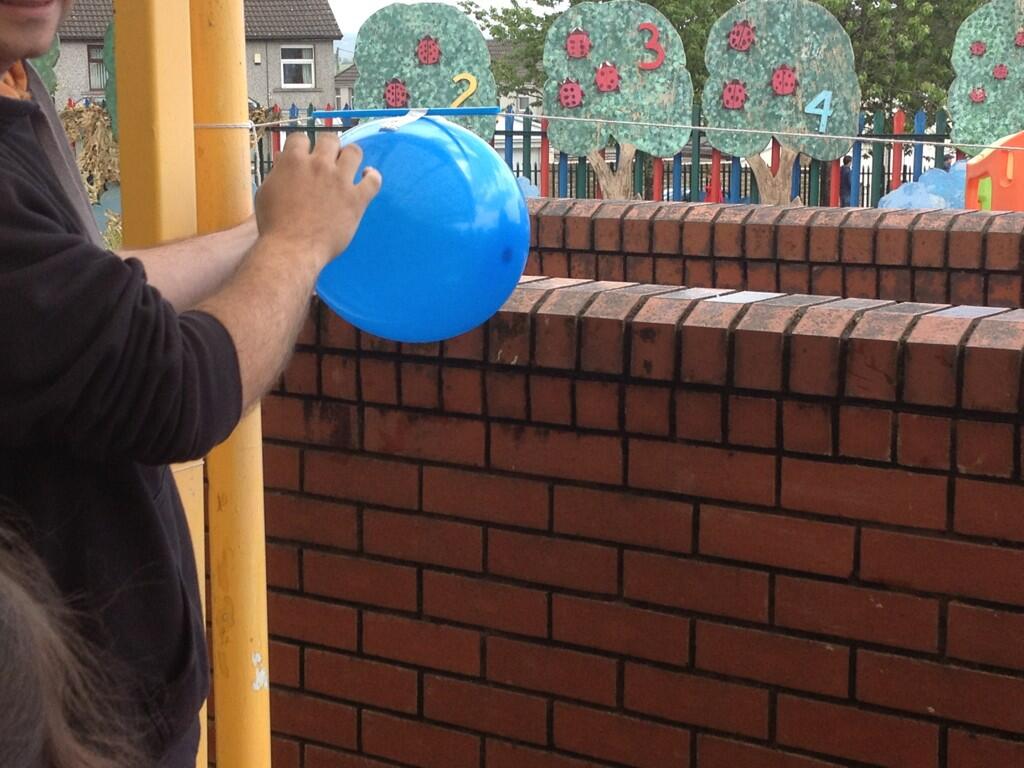 balloon rockets!
Guess what.......he didn't!! They played games, built balloon rockets.
Most of all though, they laughed! He enjoyed it!
All together they both had hugely successful day. I am so happy. It also bodes well for the family meal we are going on tomorrow, for my birthday.
It just goes to show, that with the right understanding, and a bit of patience, our children can do anything.
Should I have expectations of my children, because they seem a little different.......
Hell yes I should!! They are bloody amazing!
I would like to add a little note to the end of this, to say thank you to a teacher. At the end of this year a long serving teacher is leaving the school and will genuinely be very missed by us, and I should think many others. She takes the nursery class and looks after the whole of the foundation years. She has introduced all 3 of my boys to school, along with many of the parents of children that are there now. I cannot put into words just how fantastic I think she is.
I wish her a relaxing and wonderful retirement, you have certainly deserve it Mrs. C
xxx