Saturday, September 27, 2014
I dropped out of social media a bit, when I had some 'issues'. This included not linking up with some of my favourite prompts.
Including Reasons to be Cheerful (which I did this week) and Striking Mums: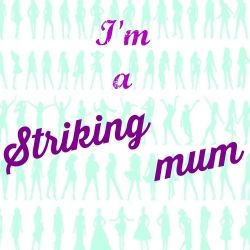 I hate that I did that, but I must not dwell on that, I must look at positives! If you don't blog, please don't think you can't join in, Kate has done this for all Striking Mums and has a facebook page, so you can.
So here I am, answering the lovely Kate's questions this week.
1. Are you different, and if so, how?
Yes, I am. I am talkative, my husband reckons I can get a persons life story within 2 minutes of meeting them! Yet I shut myself away, with no one to talk to?!
I find it incredibly difficult to make new 'real' friends. People with the same interests as me. I don't because I don't believe people genuinely like me, I think they are just being polite.
2. Do you celebrate your uniqueness or strive to fit in?
I try to fit in, but encourage others to be individual. Really not sure why this is, but it's a question that has made me think!
3. Are you ever judgemental of other mothers, who are different from you?
But only the ones that claim to be perfect, when you know that no one is..........or are they?
I never do it out loud though, I would never talk about another mothers capabilities. How we parent our children is our own business, as long as a child isn't being harmed.
4. What would you like to be different about you?
Physically: I want to be slimmer, healthier etc etc
Other ways: where do I start??? I want to be more confident in my abilities. I want to see myself as others say I am. I want to change so much.
But then, I have a great marriage, to a man that loves me as I am. So maybe I want to stay the same.
5. Have you ever been attacked or bullied for being different? How did that affect you?
I had the usual name calling, growing up, because of my size. It was never bullying though, it was never too bad, and it stopped as I grew up.
I was bullied as an adult, in a job I did. That was jealousy though.
It all affected me, I still see the fat person in the mirror, never a beautiful woman. The reason I take selfies is because I hate pictures that others take of me.
6. If you had to write an advert for yourself as limited edition, what would you say to make people think you're great?
I cook a mean roast dinner and I love cuddles!
So that's me. Wow, that was tough this week.
Am I a striking mum? I don't know, but I love this link, because so many join in that are not perfect, just trying our best.
Thursday, September 25, 2014
I haven't written one of these for several weeks, but it's my turn to take over next week, so I should get my head straight!
This week I have one big reason to be cheerful:
Friendships
This past couple of weeks has really made me re-evaluate what friendship means to me.
I pretty much shut myself away all the time. I don't go for coffee with friends, if I do go out it's normally alone, with my headphones in.
Does that mean I have no friends?
Because it was online friends that supported me through the last few weeks.
It was a friend at the school gates, that could see I was tearful one day. She didn't stop me, but acknowledged me. She knew I couldn't cope with explaining, but just wanted me to know she was there.
Then it was an old school friend that messaged me, for no other reason than to say hi! When I backed out of a night out and she realised I was suffering.
She was the reason that I did end up going out Saturday night, and laughed all evening with more friends.
I wrote a while ago, that I didn't know what friendship was........
That truly is a reason to be Cheerful

Do you have your party feet ready?
The season of dancing shoes and nights out, work or otherwise, is coming quicker than most of us would like.
Rather than seeing it as a stressful time, why not think of it as a time to get a new outfit! A time to dress up and look good.
Obviously this would include new shoes...........doesn't matter if your male or female, new shoes are a must, aren't they!?
So, we must make sure our feet are prepared for a lot of partying.
I was lucky enough to be sent some Scholl products. We all know them, they are a popular brand, for our feet. I often use their odour control products for my middle sons stinky feet!
The first thing is to get your feet ready. Get rid of hard skin and

cracked heels

. I am lucky not to have cracked heels, but I do have very dry skin.
I really wish I had taken before and after shots of my feet, because the difference is visible as soon as you put it on. I was a bit worried it was going to be sticky, but it dried into the skin and left my feet feeling lovely.
The other thing about getting new shoes is, they always seem fine in the shop...........then an hour into the night you have a massive blister on your heel!
Using products like these:
Can help you look after your feet, on a night out. Or even a long day out! As a diabetic, I know how important it is to look after your feet. They take a lot of bashing on a day to day basis.
If you suffer from lower back pain, it can be because you are not walking properly. If your feet are in pain, the rest of your body suffers!
To help you look after your feet this Christmas (there, I said it, the C word), I'm going to give one lucky reader the 'party feet' pair, pictured above. All you have to do to enter, is fill in the Rafflecopter widget below, to be in with a chance.
So give it a go, and look after those feet this winter:
Sunday, September 21, 2014